At CRM Workforce Solutions, we value our employees and the expertise they bring to the table. Without our amazing team, we could not accomplish what we do each year for the environmental and asbestos abatement industry. We recently sat down with team member, Juan Rivera, to learn more about his role at CRM along with how the industry and his role have continued to grow and evolve over the years.
Q: Thank you for taking the time to speak with us today, Juan! To start, would you mind giving us a brief overview of the environmental and asbestos abatement staffing and labor services industry and how it has evolved over the years?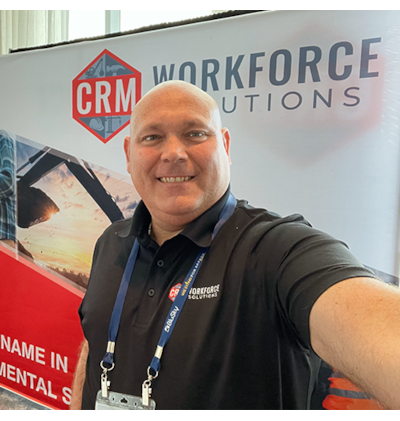 JR: Absolutely. The staffing industry, in general, has constantly been evolving. One significant example was during 2020. Because of the pandemic, many construction projects stopped, and staffing agencies had to find creative ways to keep crew members engaged. At CRM, this issue created a terrible problem and a great opportunity simultaneously.
As you know, the environmental industry is heavily regulated, and most states require a new abatement license and training every year. Since very little work was available at the time, many workers opted not to renew their licenses and left the industry altogether to work for other industries, making recruitment harder than ever.
At the same time, this also created a huge opportunity. Once the pandemic started to let up, we had many customers that were short-handed, meaning we had the perfect opportunity to meet their needs with experienced employees that were up to date on their licenses and training.
---
Q: How does your company differentiate itself from competitors in the industry, and what unique value do you offer clients?
JR: With over 2,500 W2 employees registered in our system across 48 states, I'm proud to say that CRM is one of the most influential staffing agencies in the environmental industry today. In order to meet the needs of our customers across the country, most of our asbestos workers are licensed in multiple states and ready to travel. We also have an unparalleled document management system and a great team dedicated to it.
But if I had to say just one thing that I think truly makes CRM unique, I would have to say our team. The people that listen to and meet, or exceed, the needs of our customers consistently is what makes a partnership for our customers and our company.
---
Q: What are some of the biggest challenges you face when selling staffing and labor services for environmental and asbestos abatement, and how do you overcome them?
JR: The biggest challenge I have, hands down, is the incorrect information spread throughout our industry. In the environmental industry, as in general construction, labor is one of the largest costs for the whole project. This is why many environmental companies fall prey to bad actors in the staffing industry.
For example, agencies that pay their crew as 1099 contractors may be able to offer a very low bill rate. But, by going this route, you put your project, your customer, and your company in jeopardy of being accused of misclassifying workers.
Also, unless you receive a Certificate of Insurance from each individual 1099 contractor, the crew may not be covered. While the staffing agency may have a perfectly legal Certificate of Insurance, if you read it carefully, the certificate uses the classification of "Employees" for each coverage. A 1099 contractor does not qualify as an employee.
To overcome this, I take the time with each and every customer to answer any and all questions they may have and to provide correct information on what they should be looking for when hiring a staffing agency.
---
Q: Can you share any success stories of clients your company has helped recruit and staff for environmental and asbestos abatement projects?
JR: Sure! This was back in 2017 when I started working for CRM. Back then, CRM was a much smaller staffing agency. I was hired as a recruiter, and one of the sales reps landed a massive job for us.
The previous staffing agency had issues with attendance, and the customer was behind in production and about to lose the project.
The customer asked for a guaranteed number of crew members to show up on day one and a guarantee to keep them working and productive for the length of the project (approx 7 months).
If CRM had at any point less than 80% of crew members in the project, CRM had to pay the customer $200 per day per crew member missing, or $2000 a week if more than ten crew members were missing. As you can imagine, this was a lot of responsibility.
After working very hard as a team, confirming and re-confirming the crew on the start day, I was there with the entire team and an additional 30% for backups, resulting in a 130% fill rate.
This customer came to be one of the best customers I have worked with in all my 20 years in the staffing industry.
---
Q: How do you collaborate with other departments within your company, such as operations, marketing, and customer service, to ensure client satisfaction and success?
JR: Sales Reps and Recruiters have weekly one-on-one meetings to discuss current projects and new opportunities. In addition, every other week we have a general meeting with all the departments to get to know what everyone is working on, from accounting to operations. These regular check-ins allow us to stay connected to the company as a whole and ensures we are all focused on the same goals.
---
Q: How do you build and maintain strong relationships with clients, and what strategies do you use to ensure repeat business?
JR: I think that the most important thing is TRUST. If my customers trust me, they will call me first every time. And earning that trust, sometimes, is learning to say "No, I cannot" instead of "Let's See" when you know you cannot help. Customers value honesty.
---
Q: What advice would you give to someone who is interested in pursuing a sales career in the environmental and asbestos abatement staffing and labor services industry?
JR: I would say to keep in mind that this can be a stressful industry. To be successful, you must have patience and a willingness to go the extra mile. If you are hungry and ready to make it happen, please feel free to contact us today - we are always hiring!