Welcome to our new website. We're excited to launch the new CRM Workforce Solutions website (https://crmworkforce.com). In addition to communicating our industry-leading environmental staffing, asbestos staffing, and general construction and abatement staffing services, the new site is a resource for abatement, demolition, and construction contractors and workers looking for permanent or part-time work around the United States.
Some of our new features include: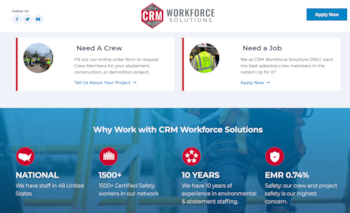 New Industry Area – Learn about our services and jobs in your specific area of focus, including asbestos staffing, emergency response and disaster relief, mold and lead abatement, demolition and construction staffing, and large project staffing.
News Blog – learn about industry news, new projects, business tips, CRM Workforce news, and more.
Staffing Map – Got a project in a specific state? Just click on our map and find your specific contact from CRM that can help you get started and answer your questions.
Environmental and Abatement Projects – Interested in learning more about CRM Staffing capabilities? Check out some of our work.
Client Portal – New information about your project, certifications and more? Visit our client portal.
Crew Portal / Apply for Staffing Jobs – need to apply for an abatement job? Just visit our portal and apply in minutes.
Let us know what you think of our new site. And if you have any ideas for how we can do even better please let us know. We appreciate your business and hope to serve you for years to come.
Thanks and best wishes.
Warren Wise
President, CRM Workforce Solutions, LLC
PS - Special thanks to Marketpath, Inc. for working with our team and providing high-quality website design and development services!