Looking for a quality job as an asbestos abatement worker or onsite supervisor in Florida? Below is a summary of the requirements you'll need.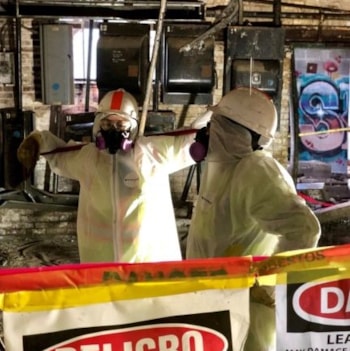 An Asbestos Abatement Worker is defined as an individual that: "works as an employee under the direction of a licensed asbestos contractor, includes any person directly engaged in abatement activities." Training requirements include: 1) a course on health risks, medical effects of exposure, federal and state asbestos laws and regulation, worker protection and work area protection, as well as 2) a 4 day abatement course (minimum).
Need Asbestos Training?
CRM Workforce Solutions partners with the best environmental training schools throughout the United States to offer both classroom training and online courses that are OSHA approved.
Both Initial and Refresher courses are offered. In Florida, initial courses (for first-time students) are only offered in a classroom, in order to satisfy state regulatory requirements. Refresher courses can be offered either in person or online to accommodate each student's schedule and needs.
For additional information about other asbestos jobs and roles (asbestos consultant, asbestos contractor, etc.), as well as Florida state licensing and training requirements, view the Florida Asbestos Licensure and Training Chart or visit the Florida Department of Business & Professional Regulation Asbestos Contractors & Consultants website or their Asbestos Contractors & Consultants Licensing Requirements page.
Have Questions About Certification or Need Work? CRM Can Help.
CRM Workforce Solutions is a national environmental and asbestos abatement staffing agency that staffs for demolition, construction, and emergency response projects, as well as asbestos, mold and lead abatement projects in the state of Florida, and throughout the United States (48 states). We are always looking for qualified crew members to represent our environmental workforce. Whether you need long-term work or just temp work, our recruiters can help get your employment process started.